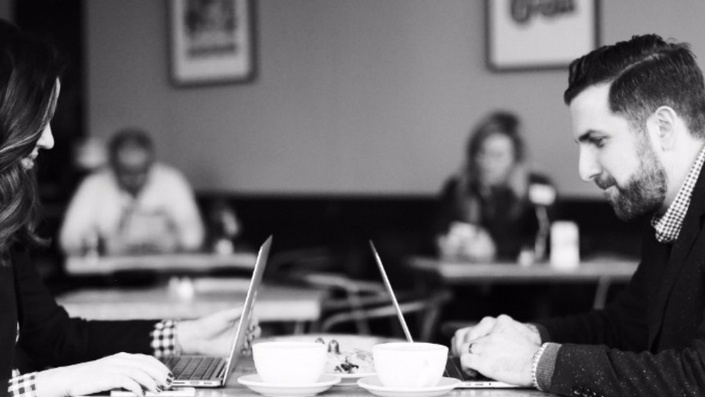 Hipreneur U
Learn step-by-step how to improve your online presence and generate more business.
Learn Step-By-Step How To Start Ranking Higher On Google.
Sign up for Hipreneur U, an online SEO course that show you step-by-step what to do in order to get your website ranking higher on Google.
Content is strategically dripped out from the time you enroll to give you actionable steps to take all while doing so at a pace you'll find easy to manage.

This course had been a game changer for businesses. See for yourself what they've had to say...
"Best $39 I've ever spent! I went from being on the 3rd and 4th page of Google to being ranked on the first page in a matter of 6 weeks."
-Leah Wafful, Owner of Bronze515
"With Hipreneur's $39/month, we went from being virtually unlisted, to the third page within a month. Within two months we had a solid spot on the second page. We are now between the first and third companies listed on the FIRST PAGE for our desired keywords!"
-David Sheets, Old North Film Company
"In just a few months of incorporating and reworking our SEO under Elliot's advice, we now come up in the top three for all our keywords."
-Christian Minich, Scrubtown Brick Paving
"After just 4 months with Hipreneur and minimal effort, thanks to step by step videos...Brittany Kinney Beaute is ranking on the first page of google for multiple searches! There is literally no easier way to achieve this In the amount of time I have and the budget I'm working with."
-Brittany Kinney, Brittany Kinney Beaute
"I'm definitely getting more calls off my website because of the changes I made using your advice, and it's making a big difference in my bottom line... When I mention to people that I'm doing an online SEO program/class (and working at my own speed because your fee is so reasonable), everyone seems to think they're already an expert, and when they tell me what they know, I realize how much more knowledge you are giving us in your program. I'm talking you up to all my friends and keeping my mouth shut around the competition!"
-Katrina Wreede, Musician
"My blog is now ranking higher than it ever has and I feel like I have the tools to continue improving my site's SEO. I HIGHLY recommend Elliot and Hiprenuer!"
-Jen Biswas, Paisley + Sparrow
"I did exactly what Elliot said to do and within a couple of months my business was #1 in my market with different searches and 4 months after starting the program 90% of my clients were coming from Google searches and my revenue had tripled"
-Angela Strecker, Blue Wings Wedding & Events
"I have seen a substantial increase in traffic to my website since I started implementing the skills I've learned with Hipreneur."
-Shasta Bell, Calligrapher
"I'm now ranking on the first page of results for all three of my services!!! Can't recommend him enough."
-Katrina Widener, Life Coach
'll be honest, until I worked with hiprenuer, I was downright scared SEO and had no idea where to start. Elliot kept insisting that it's actually pretty simple and I'm so glad I trusted him. The way he breaks down each section of SEO optimization makes total sense and the best part is, it was relatively painless! With a few simple tweaks I've noticed that I'm landing on page one of google searches. So exciting! Thanks Elliot!
Meghan Doll, Photographer
"Coming from a digital background where I worked heavily with SEO, I'm always weary of DIY SEO because it's a complicated subject that takes a long time to execute properly. My guard went up when I heard about Hipreneur, but I participated in a webinar Elliot hosted and saw that he was very knowledgeable about SEO and the right way of implementing it, so I signed up for Hipreneur to give it a try. I am so glad that I did!... If you are looking for the right way to apply SEO to your website and are patient in the process, it'll be worth your while to try Hipreneur because it will give you results! "
-Maya Devassy Tarach, Preoccupied Bride
With wedding season recently ending, I thought I better tackle this thing called SEO and I started with your Hipreneur U online course. Let's just say it has been an AMAZING experience and you've broken down this big scary thing called "SEO" and made it, well, pretty easy actually! I'm not exactly sure where I was ranking before (probably on at least the 8th or 9th page...) but I'm happy to report I've ended up on the first and second pages of Google of where I want to be ranking. I've received many inquires recently that found me on "Google", whereas a few months ago, I can't say we ever had a Google inquiry to the day. Thank you so much!
Melody Hall, Events by Melody
"Results were immediate... Elliot shared additional tools that are helping us make our presence known in the national media, too. We can't recommend the service highly enough."
-Ali Jarvis, Sidewalk Dog Media
"Elliot broke down the information and taught it in such an intuitive, comprehensive way...The business now has a very successful SEO profile and with Elliot's help, a solid website that is an anchor to the marketing plan."
-Stephanie Guidera, Machine Shop
"With a few changes, our google ranking jumped dramatically. You can now find us on the first page for several key search terms. (Happy dance.)"
-Jackie Reisenauer, Munster Rose
When our clients find out (days after implementing our system) they are on the first page of Google, we get emails like this...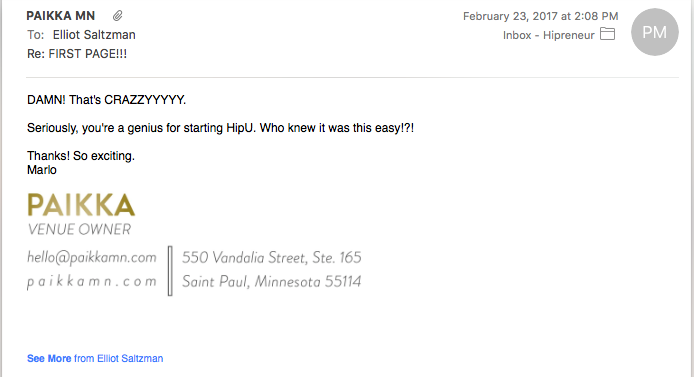 The fact that you are reading this right now means you're a business owner interested in finding new ways to grow your business. We hope, like this business, Google can be a new business generator for you.
Take for example, this student: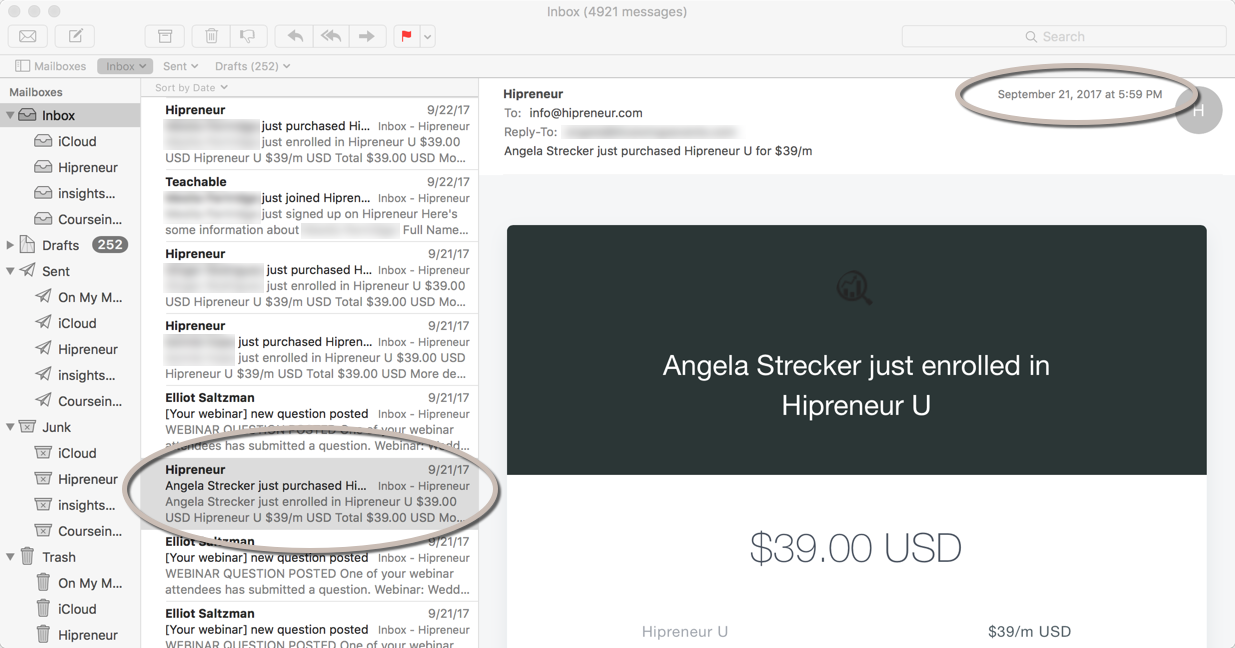 47 days later we get this...

Those are the emails that make me jump up from my computer and do the "no one is watching" fist pumps in the air! I hope I get to do this sometime with a pumped up email from you!
For many students, who may be in a more competitive market or whose site takes longer to optimize, how much new business will you really need to see a return on your investment?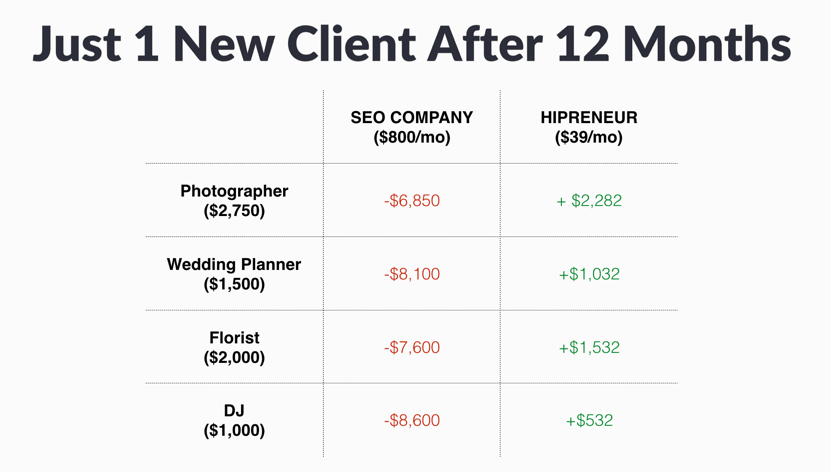 100% MONEY BACK GUARANTEE
I want you to test this and see for yourself why my clients love this and find applying SEO strategies is easier and less time consuming than most think. If after 30 days you're not convinced this is a great fit for your business, contact me and I'll refund your money.
Your Instructor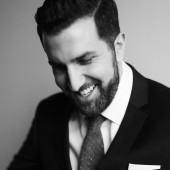 Hipreneur is owned and operated by Elliot Saltzman. Elliot understands how to generate new business and is an expert in sales. As a college student, Elliot made over $50,000 in 10 weeks selling door-to-door for a summer job. At 22, he was appointed VP of Sales & Marketing for a startup construction company and grew sales to 2.2 million in the first 9 months. During his time in sales, he quickly became passionate about studying different tactics and strategies businesses use to acquire new business. Over the past 6 years, Elliot has connected with over 2,000 small business owners and has learned the best ways to getting the "phone to ring," as well as the common mistakes small businesses make "burning money" on non revenue producing tactics. Elliot is passionate about speaking and training on business growth and in 2012, wrote a book called "How to become a Million Dollar Speaker" which has recently been seen in Success Magazine.
Frequently Asked Questions
When does the course start and finish?
As long as you are a member of Hipreneur U, it is an ongoing and completely self-paced online course - you decide when you start and when you finish. Content is strategically rolled out each month.
How long do I have access to the course?
After enrolling, you have unlimited access to this course for as long as you are a member of Hipreneur U - across any and all devices you own.
What if I am unhappy with the course?
We would never want you to be unhappy. If you are unsatisfied with your purchase, contact us in the first 30 days and we will give you a full refund.
No Long Term Contract!
Cancel Anytime!